TMS for Carriers and Freight Forwarders
[BIG UPDATE] CargoApps is now upgraded to version 2.0!
Our system now has more functionalities than ever, which will further simplify your daily tasks:
More precise route planning
More detailed order & fleet management
Reduce communication with your drivers and customers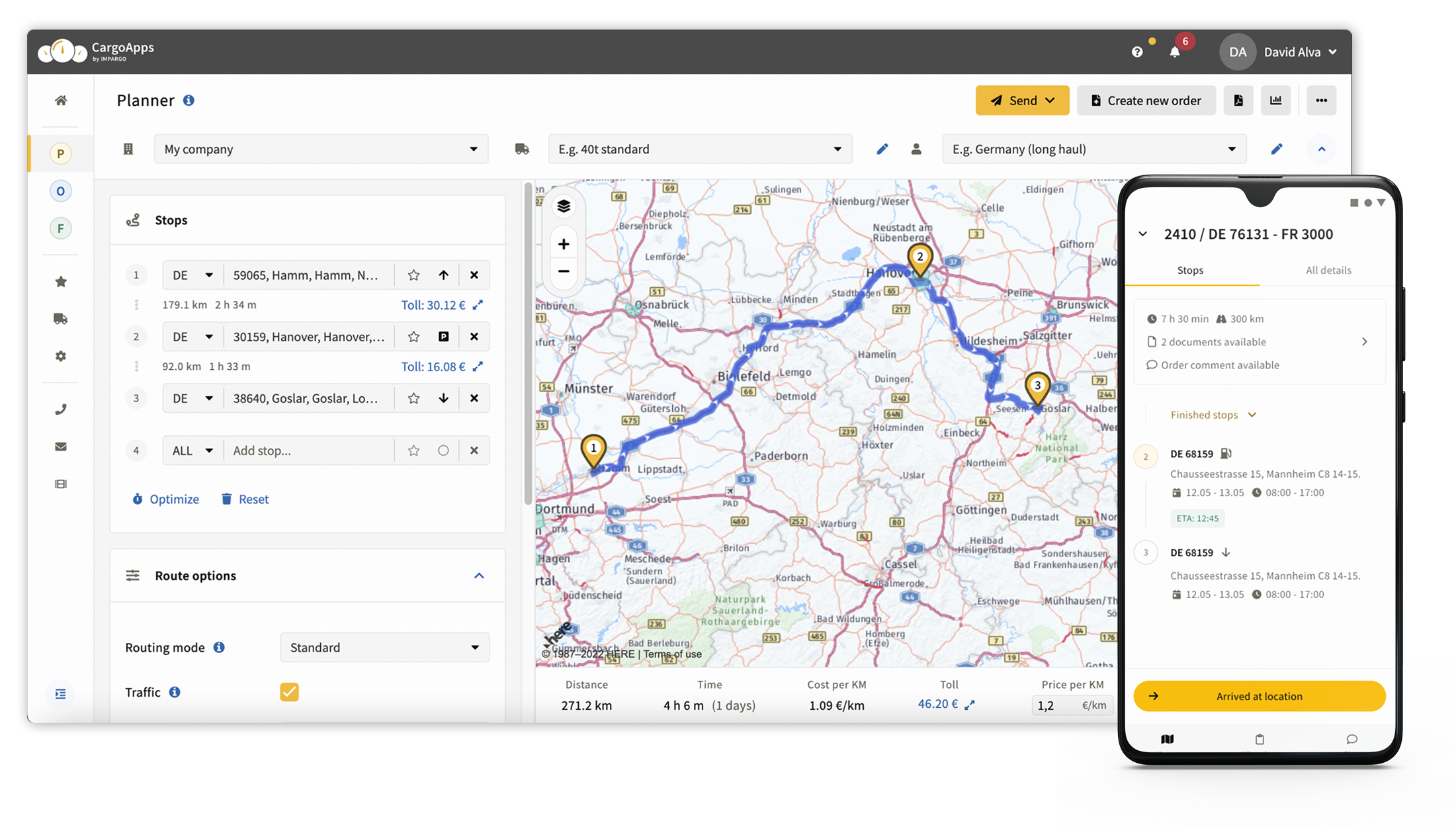 The TMS Your Whole Team Will Love
CargoApps 2.0 provides new features for all modules, covering all activities of a dispatcher: Route Planning, Driver Tracking & Communication at every stop, and Order Management.
Route Planner 2.0
Increase efficiency in driver communication and order management:
Make the planning more accurate and cost effective
Improve communication with drivers
Have more control towards your cost
Optimize route planning:
More realistic driving times
Better optimized routing modes (cost-optimized & avoid toll)
DriverApp 2.0
Reduce communication with driver in many aspects:
Easy-to-use navigation functionality for drivers
Know what the driver is doing and where he is (GPS and status tracking)
Give all relevant information about the order to the driver in one click
Ensure profitability of your company:
Make sure your cost-optimized route is followed by the drivers
Make sure the planned transportation cost is equivalent to the actual cost
Order & Fleet Management 2.0
Increase your service level:
Document waiting times with GPS location as evidence
Inform your customers with one click about the current order status (e.g. ETA, loading status, unloading status, etc.)
Be more efficient in order management:
Clear overview with useful information about your transport order
Enable drivers to communicate and update order status
Be more proactive and reduce follow-ups with drivers
Real-time data without manual communication
React on incidents faster with meaningful and sufficient information
Meet The Experts
With tools to make every part of your process simple and a support team excited to help you, getting started with CargoApp 2.0 - The TMS for Carriers and Freight Forwarders has never been easier.
One Tool For All Road Freight Operations